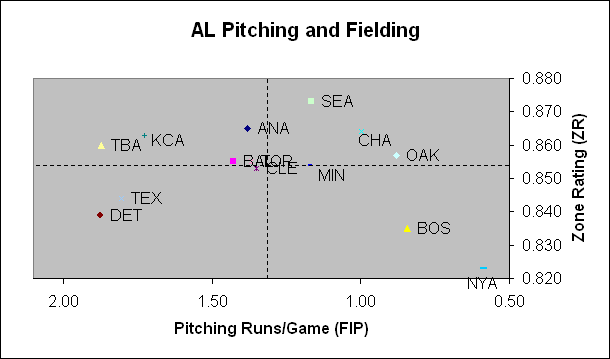 Comments
How to Read this Graph
August 24, 2003
Teams that are helped the most by the move from DER to Zone Rating are Toronto and Baltimore. The ones most negatively impacted are the Red Sox and A's.

Yankees: best pitching and worst fielding. Red Sox: second-best pitching and second-worst fielding. Really, this is pretty amazing. Seattle continues to have very, very good fielding (followed by Anaheim), while the fielding of the Royals and Devil Rays is hidden by their poor pitching.
Graph Change
Thanks to a suggestion from a faithful reader, I have changed the parameter for the defense portion of this graph from Defense Efficiency Ratio to Zone Rating. Zone Rating, which is computed by Stats and is available on the ESPN website, is the number of batted balls successfully turned into outs divided by the number of balls that are hit into "fieldable" zones. As such, it is a cleaner measure of fielding than DER.