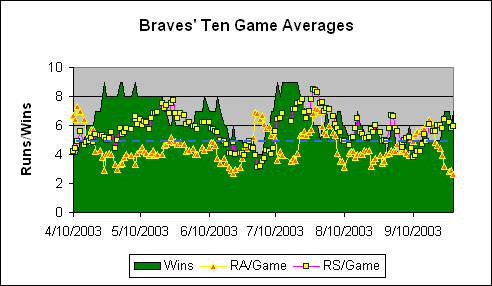 | | | | | | | |
| --- | --- | --- | --- | --- | --- | --- |
| | April | May | June | July | Aug | Sept |
| OBP | .347 | .355 | .325 | .378 | .338 | .344 |
| SLG | .444 | .535 | .447 | .495 | .463 | .463 |
| FIP | 1.46 | 1.11 | 0.66 | 1.34 | 1.12 | 0.81 |
| DER | .743 | .740 | .710 | .696 | .733 | .737 |
Atlanta Braves Comments
August 21, 2003
The Braves are now outperforming their projected win/loss record by six games (it was more like nine games in early July). The Braves are actually 13-18 in one-run games, but their pitching staff has had games in which they've given up 20, 17, 16 and 15 runs. Runs above eight to ten in a game don't really hurt.
The Braves' offense exploded in July. Although the offense has returned to the blue line in August, the pitching and fielding have picked up the slack. In fact, there has only been one extended period in which the Braves' average runs allowed were lower than runs scored. That occurred in late June and early July, and included the 20-1 loss to the Marlins.
The Braves' cadre of everyday players is incredibly strong. They are first at C and 2b, third at SS, fourth at 3B and two of the top five OF are Braves (and three of the top ten).
View Individual Player Win Shares
View individual player stats