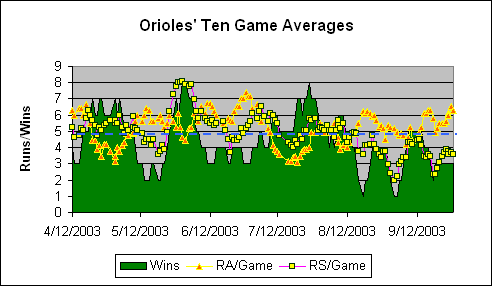 | | | | | | | |
| --- | --- | --- | --- | --- | --- | --- |
| | April | May | June | July | Aug | Sept |
| OBP | .332 | .351 | .323 | .337 | .298 | .302 |
| SLG | .400 | .457 | .431 | .436 | .379 | .352 |
| FIP | 0.74 | 1.40 | 1.78 | 0.66 | 2.27 | 2.01 |
| DER | .716 | .708 | 681 | .690 | .740 | .712 |
Baltimore Orioles Comments
August 31, 2003
In the first third of the year, the Orioles had some middling success by playing a string of games against the Tigers and Devil Rays. In July, they had a nice streak against some good teams, including the Braves, Blue Jays, Phillies and Yankees. This was their best streak of the year, including some very good pitching. Jason Johnson, Pat Hentgen and the since-departed Sidney Ponson all pitched very well in July.
Unfortunately, the O's played some of their tough neighbors in the AL East in August, and the results haven't been good. Although Johnson and Hentgen have continued to pitch well, they have come apart in nearly every aspect of the game. Their August offense was just terrible (about equal to the Tigers in May) and their first-half star, Melvin Mora, has barely played since the All-Star break.
It's hard to statistically judge the Orioles' fielding. Their park-adjusted DER is low and they have the second-least fielding Win Shares as a team. But their Zone Rating is league-average, and at least Tony Batista and Brian Roberts appear to be good fielders. Jay Gibbons (the team leader in Win Shares) appears to have the range of a rock in right.
View Individual Player Win Shares
View individual player stats